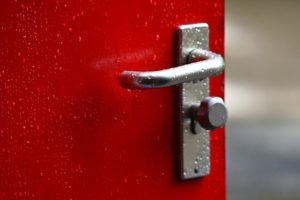 The idea of using vacuum pumps to the operate power door locks seems like something from one hundred years ago, especially in our age of electronics and computerization. The fact that complicated vacuum and compressed air systems were installed in cars seems almost baffling considering how inexpensive, reliable, and easy to install electronic locks are. What we seem to forget is that up until very recently, the electronic technology for power locks on car doors was unreliable. Furthermore, the technology was costly and it's just in recent years that it has made sense for some car manufacturers to switch from vacuum technology to electric.
Before answering the "why" part of the question, it's essential to have a look at the "how" part. How do vacuum pumps systems in cars work? Basically, there is a vacuum pump located under the passenger seat which will either suck air through lines to each door to lock them or blow air to unlock them. Each door with a lock will have a vacuum diaphragm, but over time, the diaphragm can fail due to leakage. This will cause some doors to lose their ability to lock and unlock even when manually manipulated. Repairs must be done to keep everyone safe; however, overall, the vacuum system has overall been reliable since it was implemented in the late 1960's and 1970's.
Of course electric solenoids are now reliable and can operate fairly quietly like a vacuum system. However, this was not always the case; the electric systems for many years were considered to be far inferior to the tried-and-true vacuum locking system. Along with the much higher cost, electric locking systems were said to be so noisy that they were distracting to drivers and passengers. The vacuum system was considered so reliable and inexpensive that Mercedes-Benz continued to use it until 2003 with its W210 model. Therefore, it is only in the past ten years that electric solenoids have truly become competitive in terms of quality and in terms of price.
While there are some vehicle manufacturers that have been selling cars with electric central locking systems since the 1980's, it must be said that the older systems are notorious for malfunctions. If you're thinking of purchasing an older car with a central locking system, make sure you ascertain what type of power locks it's got and arrange to get any necessary repairs the system might need. Locksmith in Florida will help you learn more about it.